Home
»
News

»
School of Dance Presents: an Evening of Transformative Works in annual "An Evening of Dance"
School of Dance Presents: an Evening of Transformative Works in annual "An Evening of Dance"
November 2nd: 6:45 (Pre-show discussion) & 7:30p (Evening of Dance)
November 3rd: 2:00PM Alumni Informal Showing
November 3rd: 6:45 (Pre-show discussion)  & 7:30p (Evening of Dance)
---
This year's An Evening of Dance performances will feature five works spanning a range of dance genres from faculty and visiting guest artist.
The School of Dance had the pleasure of welcoming Visiting Guest Artist Ann Carlson this semester. Carlson worked with 16 students during an intensive two-week residency to restage and adapt her seminal work, Flag, originally set in 1990. Flag2Redo continues to explore the flag as a symbolic embodiment of nationhood, but Carlson wanted to give the dancers agency over this adaptation. "Ann was interested in a restaging of the work that's living for this group at this time, instead of a restaging of a preexisting work as a set entity," shares Sarah Rose current MFA student and Carlson's rehearsal director. Carlson, a MANCC Living Legacy Artist, has completed four residencies at the Maggie Allesee National Center for Choreography (2011, 2016, and 2018) and is a nationally recognized interdisciplinary choreographer and recipient of numerous awards and fellowships.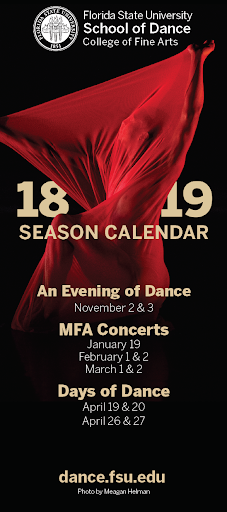 Also featured is a restaging of long time School of Dance faculty, Dan Wagoner's One Thing After the Other. Wagoner retired in 2013.  Rachel S. Hunter, current Adjunct Faculty and Production Manager, was in the original cast and served as the Rehearsal Assistant for Wagoner while he built the work in 2012. Choreographed to John Cage's "Credo in us", Hunter has worked with the cast using a collection of notes, drawings, and videos. Hunter "hopes that the restaging offers an opportunity for a new generation of dancers and audience to experience Wagoner's choreographic work."
Not My Enemy is a work-in-progress collection consisting of three sections. Assistant Professor Kehinde Ishangi first premiered her work Not My Enemy in New Orleans, LA. She recalls a veteran approached her after the performance thanking her and said "now people know what I went through."  Ishangi received inspiration from dialogues with her father, a Vietnam veteran and a book, Blood, by author Wallace Terry.  The three completed sections deal with the war, PTSD, and healing. Ishangi plans on completing the work with two additional sections that will address familial and patriotic responses of veterans.
There are also two new choreographic works being presented this year. Joséphine A. Garibaldi, the Artistic Director for this year's concert, has collaborated with the dancers to choreograph a new work, the sky will last longer than I. This piece, based on the Jankovics 1974 animation Sisyphus, brings attention to the weights of life and the nature of enduring. Garibaldi translates to stage a narrative of four individuals dealing with the limitations of their personal weight. New faculty member, Caleb Mitchell, contributes a ballet pointe work to the concert series. Mitchell describes his piece, set to music by Johan Johansson, as a neo-classical ballet with a post neo-classical aesthetic. The piece focuses on the correlations of life events–birth, death, fortune, misfortune– and how these events culminate to support more significant outcomes throughout one's life.
The Florida State University School of Dance will present An Evening of Dance on November 2nd and 3rd at 7:30 pm in the Nancy Smith Fichter Dance Theatre in Montgomery Hall, located on the FSU campus. There will be a Pre-Show Discussion held in room 216 where guests will have the opportunity to engage in dialogue with the choreographers. The discussion will be facilitated by Assistant Professor Dr. Hannah Schwadron.
---
Tickets for An Evening of Dance performances are $18 for adults, $16 for senior citizens, $12 for children and non-FSU students and $10 for FSU students with ID. All seating is general admission. For ticket information, contact the Fine Arts Tickets Office at 850-644-6500 or online at tickets.fsu.edu. Tickets may also be purchased directly before each performance at Montgomery Hall. The Box Office closes 15 minutes after the start of each performance. The School of Dance is within the College of Fine Arts at Florida State University.
For more information:
Contact:  Florida State University, School of Dance, La Toya Davis-Craig
Phone:    850-644-6500
Email:     ldavis3@fsu.edu
Website: www.dance.fsu.edu