School of Dance Welcomes Alum Trent D. Williams, Jr.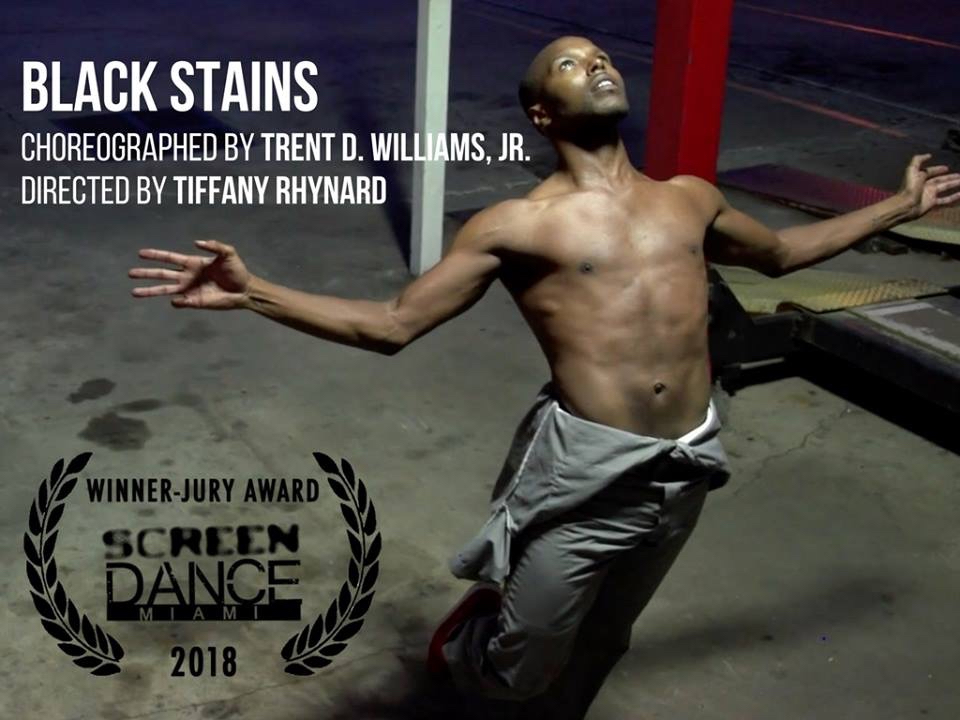 ---
Wednesday, March 7th at 10:30 am
Nancy Smith Fichter Dance Theatre
---
Choreographer and School of Dance alum, Trent D. Williams Jr., returns to the School of Dance for a film-screening of the newly premiered film, Black Stains, and a Contemporary Dance Master Class with School of Dance students. Trent received his M.F.A. in Dance Performance & Choreography from The Florida State University in 2012 and is currently teaching as an Assistant Professor at University of Florida in Gainesville, Florida.
His dance training began at the Houston Ballet Academy of Dance under the guidance of Ben Stevenson. He has also worked as a guest artist with Urban Souls Dance Company and Houston Metropolitan Dance Company, both in Houston, Texas. Mr. Williams has performed alongside Destiny's Child, 112, and Janelle Monae among others. Mr. Williams joined Dayton Contemporary Second Company in 2007 where he performed and choreographed extensively throughout Ohio, Kentucky, and Michigan. Soon after, Mr. Williams was invited to dance with Dayton Contemporary Dance Company (DCDC) in world-renowned works by Talley Beatty, The Stack Up (1992) and Eleo Pomare, Las Desenamoradas (1987). Mr. Williams became a full member of DCDC in 2008 under the artistic direction of Debbie Blunden-Diggs where he did a vast array of some of the world's most exciting and innovative choreographies. They included works of Talley Beatty, Eleo Pomare, Liz Lerman, Gerri Houlihan, Donald Byrd, Jawole Zollar, Anjali Austin, Michael Foley, Debbie Blunden-Diggs, William B. McClellan, Jr., Shonna Hickman-Matlock and Helanius Wilkins, to name a few.
Williams and Tiffany Rhynard, FSU Assistant Professor premiered their film at ScreenDance Miami on January 20, 2018 and were honored with the Jury Award. Part dance film, part documentary, Black Stains depicts the reality of living while black in the United States. Inspired by the personal experiences of Trent D. Williams, Jr., an African-American choreographer, the short film addresses the systemic pattern of racial profiling by the police. Moving with uncompromising physicality, an all male ensemble destabilizes conventional assumptions of masculinity and racial stereotypes as they navigate through an urban landscape while battling their own emotional terrain. Interviews with black men encompassing a broad spectrum of age, background and experience illustrate personal human stories that bring abstract issues into sharper focus. Woven together with robust athletic dancing, the film persistently asks the question: why do we not see black men as human?
Black Stains is a creative collaboration between Williams and Rhynard who have found common ground in dance and activism. Williams' choreography draws on material from literature, history, and movies that cover many aspects of human behavior including reflections on how social inequalities are impacting our changing world. Through this approach he strives to expose a sense of vulnerability, and new possibilities for illuminating hope, building and strengthening communities and encouraging greater understanding seldom dealt with in concert dance. Rhynard's mission as a filmmaker is to create visually compelling films that illuminate current social issues, awaken our capacity for human empathy and compel the viewer toward action. Drawing on her experiences as a dancer and choreographer, she uses the visual format of film and the kinesthetic capability of movement to illustrate both positive and destructive patterns of social behavior in an effort to expand human connection.
The School of Dance will host Williams and Rhynard in a film screening and discussion on how we use dance to create dialogue about social justice issues. The forum will also include special guest, Shane Whittington, from the FSU Center for Leadership and Social Change. He will facilitate dialogue and lead activities inspired by the film. Please join us on Wednesday, March 7 from 10:30 am – 11:50 am in the Nancy Smith Fichter Dance Theatre located inside of Montgomery Hall.