Nancy Smith Fichter Scholarship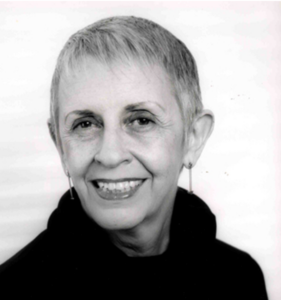 The Nancy Smith Fichter Scholarship was established in 1997 in the year in which Fichter retired from her 33 years as Chair of the Department of Dance at Florida State University. Endowed through generous gifts from friends, colleagues, and alums of FSU Dance, a scholarship is awarded to a deserving student majoring in dance.
In honor of Nancy Smith Fichter's 90th birthday in 2020, three past recipients shared the impact the scholarship had on their academic and professional careers. Read more from Liz Dalal (MFA 2012), Erika Leeds (BFA 2015), and Bryanna Dean (BFA 2018) about their time in the School of Dance and their current successes.
Thank you to alumni and friends who have supported the fund! To make a gift, visit give.fsu.edu/nancysmithfichter.
---
Nancy Smith Fichter is most widely known at FSU as the former Chair of the Department of Dance (1964-1997), during which time the department from grew to be one of the top dance programs in the country.
"What I wanted to do in developing the dance program was based on the model of the conservatory within the university." -Nancy Smith Fichter, from an interview published at the time of her retirement in the FSU's Research in Review.
Fichter grew up in Jacksonville, FL and was exposed to dance from an early age, experiencing Martha Graham technique in the 1940's at the girls camp Laurel Falls established by her grandparents and run by her aunt Lillian Smith. Nancy came to Florida State University to pursue a degree, and first encountered an FSU dance class as part of her physical education requirement in 1948. As a student, Fichter served as President of the Theatre Dance Group, led by Nellie-Bond Dickinson, and performed alongside Dickinson in the first An Evening of Dance in 1952. Fichter received a BA in English from FSU in 1952, her MA in English in 1954, and her PhD from Texas Women's University in 1960.
Fichter the artist/visionary, had few models and no preconceived notions when she set out to create her ideal department, a "conservatory within the university." "Building a department," she says, "is like casting a dance." One seeks strong committed people "to build a program, not a little monument to yourself."
Personal monuments don't suit Fichter's style. Words such as "fluid," "evolving," and "motion" fill her vocabulary and describe her art. She is none too fond of "the rigid little categories" of institutional life, a condition in academia she dubs, "curricula sclerosis." Nor is the standard language of turf or exclusion hers–she's much more interested in the ways different disciplines speak to and enhance each other ("The other arts teach you other ways of being.") Her creative influences include the other arts (especially music–"what a campus to be on!"), and a deep appreciation of the natural world.
Her ambition for her department was that it preserve dance's ephemeral history by becoming a repository of dance repertoire–preserving the Classics by reconstructing them. It's a mark of Fichter's stature that the FSU company has been granted permission to recreate so many masterworks. What's more, FSU has a full-time dance historian on staff. "Knowledge of the past erases false generational boundaries."
Over the years she has created over 100 choreographic works for FSU dancers, other schools and universities and for professional companies. Her work is widely known through teaching and choreographic residencies and consultancies throughout the country and through her writing in various publications.
She has also frequently been a featured speaker at professional meetings. Dr. Fichter served as President of the National Association of Schools of Dance and was also a member of the association's Commission on Accreditation. She was a founder and President of the Council of Dance Administrators (CODA) and is Director Emerita of the Board of the Florida Dance Association. She was the first recipient of that association's annual award for "outstanding contributions to the development of dance in Florida"; the award is known as the Nancy W. Smith Award. In 1986 she received the Florida Alliance for Arts Education award given in recognition of her contributions to arts education in the state of Florida. She served as Editor of the publication Dance Administration, Themes and Directions; and she has served on the Executive Editorial Board for Arts Education Policy Review.
She has been a recipient of a Florida Fine Arts Council Fellowship for Individual Artists and several grants from FSU for choreographic work.
In 1991, she received the Robert O. Lawton Distinguished Professor Award, FSU's highest honor. Upon her retirement in 1997, her career was recognized with a weekend celebration and a retrospective concert of her choreography. At this time the dance theatre and a scholarship were named in her honor. Nancy served as Interim Dean of FSU's School of Theatre in 2001/2002. In 2002 she received the Artes Award from the FSU Faculty Senate for her significant contributions to the University's mission.
Nancy and her husband, visual artist Robert Fichter, founded and serve as the Co-Directors of The Lillian E. Smith Center for Creative Arts, a not-for-profit arts residency program whose mission is to offer a place where gifted creative artists and scholars in various disciplines may find the conditions of quiet solitude and privacy in which to pursue their work. In 2013, the LES Center became a part of Piedmont College and the Fichters continue to serve on its Advisory Council.
In 2011, Nancy was honored with a Trailblazer's Award during Women's History Month by Tallahassee's Oasis Center for Women & Girls.
---
Make a Donation
To make a gift online to this fund, please click the Donate button to the left, choose "More Designations" and type in F05792. Please mail checks payable to "FSU Foundation" with the fund number noted to the address below.
To discuss a gift to Dance or other performing or visual arts discipline at Florida State University, please contact:
Jessica Comas
Director of Development
FSU College of Fine Arts
236 Fine Arts Building
Tallahassee, FL 32306-1170
(850) 645-0701
jcomas@fsu.edu