School of Dance Named One of the "Top 10 College Dance Programs to Know" by Backstage
An article posted earlier this month by Backstage lists Florida State University's School of Dance as one of the top 10 dance programs to know in the entire country! Aimed at graduating high school seniors looking for a career in the field of dance, the article highlights some tips for students who are still deciding the type of program, genre of dance, and specific school they are looking for. With helpful advice from deciding the type of degree to seek, to specific showcases showing off their hard work, this article covers everything a student needs to consider before deciding where to spend their undergraduate career.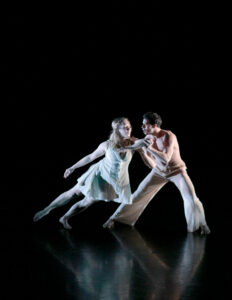 Highlighting the skill-building aspects, performance opportunities, and post-college prep for graduating students, the article showcases all of the amazing opportunities that the FSU School of Dance offers to its students. Focusing on the BFA dance program, Backstage notes FSU's focus on performance and choreography, especially with regards to the history and aesthetic of the piece as a whole. The article includes information about the variety of classes offered to students as well as some of the study abroad programs, internship opportunities, and dance forums available for students to engage in. An emphasis was placed on the school's incredible Days of Dance and Evening of Dance concert series with a special shout out to smaller performances in the black box studio as ways to showcase the hard work and dedication of our students!
To learn more about all the amazing things Backstage had to say about the School of Dance, you can read the rest of the article here.
About Backstage
Founded in 1960, Backstage is an Entertainment-Industry brand aimed at those working in film and performing arts. Backstage is noted for providing castings, job opportunities, and career advice to their millions of readers from sources the performance unions, agents, filmmakers, and casting directors. Backstage publishes and promotes over 30,000 casting calls annually from large cinematic projects to smaller students films. Academy award winners such as Benicio Del Toro, Jennifer Lawrence, and Lupita Nyong'o have been featured on the cover of the magazine, and Backstage is known for utilizing their industry insiders (or "Backstage Experts") to provide helpful inside tips for landing the job and improving their craft. Backstage frequently hosts panels of industry professionals, workshops for working in various fields, and promotes notable and outstanding acting programs and schools all over the country.