School of Dance Presents "Ashes of Beauty", An Exploration of Gender and Femininity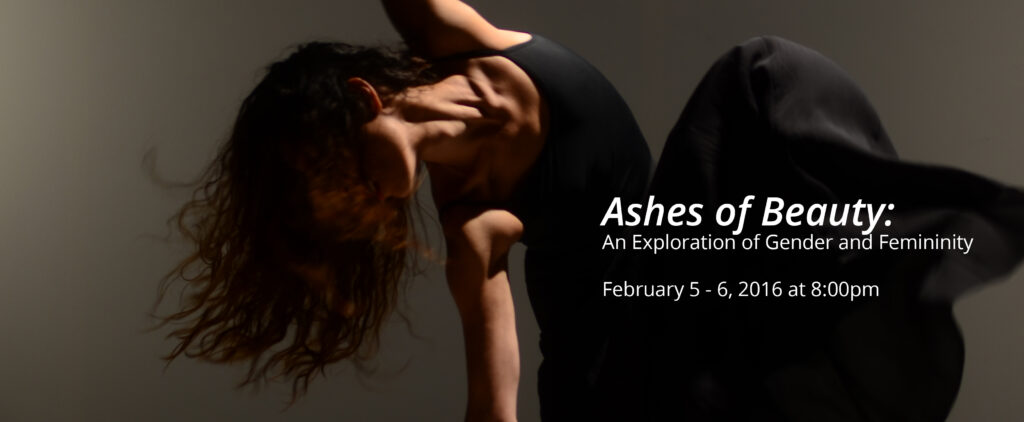 Florida State University's School of Dance will present ASHES OF BEAUTY, the second of three MFA concerts in the current season, on February 5-6, 2016 at 8:00pm. This performance features choreographic works from MFA candidates Ircamar Garcia, Erika Hand, and Rebecca Krumel. Their work together forms a mosaic of expressions, stories, ideas, and responses to culture and community and its affect on gender and femininity.
Garcia's choreography, And Now, Can You See Me, invites ten dancers, including Garcia, and viewers alike, to uncover the inner conflict when balancing between the outward and inward sense of identity. When it comes to facing one's true self, is the effect comforting, inviting, amusing, or sobering? Garcia says that her work "explores the dark side of femininity, the social pressure over women to be flawless, young, [over-sexualized]" and that it "embodies the struggle of the projected self over the real, vulnerable one." With the influence of composers Philip Glass, Max Richter, Sigur Ros, and with an original composition, Garcia and cast welcome you to what's sure to be a telling display.
Hand's first section, Love's Sea, washes up real women's stories of love and conflict. Imaginatively and with mythological whimsy, Love's Sea recounts these stories from the perspective of a mermaid. Hand states that her work reflects a "feminist Lord of the Flies," and in it, "a pack of seven women share their stories and witness each other's confrontation with the self and its demons." Hand's second section, Normal Danger, a playful duet, reflects the ebb and flow of an intimate, sisterly friendship. Described as an "outrageous declaration of love and friendship," Normal Danger revels in the joy of connection and the hilarity that sometimes comes along for the ride. The duet is one that, in sharing the journey, will "celebrate the nature of togetherness and the inevitability of its loss." Her musical inspirations include that of Caroline Shaw, Michael Wall, and Betty Everett.
Krumel's choreography, Beauty Unveiled, bares the range of components that truly describe "beautiful." Complex, and at times subjective, beauty can be honored as virtue, dismissed as vanity, or cherished as sacred. Within this work, Krumel's cast of nine women reflects on the many aspects of beauty and the impact it has on interpretations of femininity. Featuring new original work by composer Daniel Smith School of Dance 's faculty, in collaboration with cellist Logan Castro, Krumel's piece questions how we internally and externally portray what we know and what we believe about glamour, value, and comeliness.
A pre-concert discussion about collaboration among dancers and musicians will take place before the Friday performance in Studio 216 from 7:15-7:45pm. The panel includes choreographers Erika Hand and Rebecca Krumel, composer and pianist Daniel Smith, cellist Logan Castro, and vocal coach Ross Daniel.
ASHES OF BEAUTY will be performed at 8:00pm, February 5-6, 2016. Tickets for the concert are $8 for the general public and $5 for FSU students with ID. This concert will be presented in Florida State University's Nancy Smith Fichter Dance Theatre in Montgomery Hall, located at 130 Collegiate Loop.
For ticket information, contact the Fine Arts Tickets Office at 850.644.6500 or online at www.ticket.fsu.edu. For more information, call Joyce Fausone at 850.645.2449 or contact via email at jfausone@fsu.edu, or check online at dance.fsu.edu. The School of Dance is within the College of Fine Arts at Florida State University.