School of Dance Faculty & Students Attend 2016 PCA/ACA Conference in Seattle, WA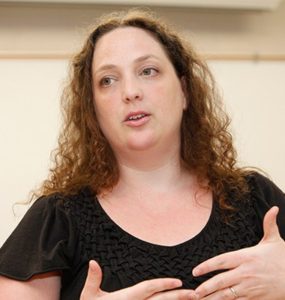 The College of Fine Arts School of Dance faculty and students attended the recent 2016 annual conference of the Popular Culture Association and American Culture Association (PCA/ACA) in Seattle WA.. Funded in part by generous donations generated from the crowd source online SparkFSU campaign and through scholarships received from FSU based Congress of Graduate Students (COGS), two SOD faculty and four graduates students presented at the conference.
Assistant Professor and conference chair of Dance and Dance Culture topics Dr. Jen Atkins presented Dancing 'Teen Spirit': Approaching Nirvana through Movement Analysis. Assistant Professor Dr. Hannah Schwadron and four graduate students: Jasmine Booker, Heather Boni, Mary Roberts, and Amanda Sieradski, collaborated on the panel presentation Probing Choreographic Methods: How Making Dance Can Question Culture. Topics included discussions of STEP, mixed ability and integrated dance, cruise ship dance industry, and archetypes of rebel femmes in pop music.
"I was impressed with our group's professionalism, and felt so proud of the work we had accomplished," notes Dr. Schwadron. "I'm especially pleased with the diversity of the four graduate presentations, lauded for their clarity and poignancy in the rich responses to our choreographic research on such wide ranging subject matter."
Reflecting on each student's presentation, Schwadron recalls:
Jasmine's opening song was a powerful call to all present to listen with active and open minds to her sound score of words and body percussion. Heather managed technical snafus with her signature grace and patience, while optimizing the chance to share her commitment to integrating integrated dance at FSU. Mary was bold and self-reflective in her seaboard histories of cruise ship dance, in character shoes and fishnet tights no less. And Amanda danced in leather jacket and knee-high boots against recorded recitation of her paper on pop music paradoxes and their gendered implications." Each dancer made the presentation, and the space itself, her own. "All made new moves in and between conference room chairs, tables and projector screen and came out with material and momentum for the next big thing.
Second year graduate, Amanda Sieradski states that her experience was "simply incomparable to any prior conference experience." When it came to the conference overall, she shared several highlights saying "Seattle is an enchanting city on the water, full of mariner's tales, home to grunge and Nirvana, and brimming with cultural wonders–the perfect setting for a conference concerning American and Popular Culture. I took every opportunity to immerse myself in intellectual discussions around music, poetry, video game culture, rhetoric, and even a panel on the BBC show, Doctor Who." Having been a panel that involved speaking, singing, and dancing, for Amanda, the panel "stood apart" from all of the other conference activities. The conference Sieradski states, "was the single most terrifying thing I've done to date–flying cross-country, sporting a leather jacket, and speaking on and dancing through feminist and music theory–but in the end it was one of the more rewarding experiences I've had as a graduate student. I'm proud to have been an ambassador to Florida State and the School of Dance and am looking forward to proposing and presenting again at next year's conference."
Mary Roberts has seen the evolution of her project as her voice of cruise ship dancing experience has grown. She was in the think tank process while "simultaneously developing [her] thesis, and then on to actually presenting in Seattle." Despite having used her research study in FSU courses and in think tank collaboration, Roberts' experience was still new. She says, "During my presentation, I was fully engaged in the moment. I felt I could nearly imagine the waves moving as I tossed myself around in the room. I had images of dancing on the ship stage again and singing along to lyrics I knew so well. Even my lifejacket choreography went flawlessly." Knowing that "the concept of cruise ship performance and dancing on cruise ships carries certain connotations," Roberts was able to accept that her work could please the viewer, but mostly it needed to inspire her.
Heather Boni took her advocacy for ability nationally, through the PCA Conference. She has been collaborating with the Mickey Faust community of mixed ability movers. "Cultural sensibility regarding the dialogue and language used to define people with disabilities needs to be examined and openly discussed in popular culture studies." Boni writes about the value to conference had for her. "My experience at the PCA/ACA conference was rich and my networking with other dance professionals in the field led to further rich conversations and sharing of research which will greatly benefit my future projects. I am very appreciative for the opportunity to present my research at the PCA/ACA Conference among my cohorts as a part of a panel discussing diverse and important research inquires of FSU graduate dance students."
Jasmine Booker, the only first year graduate student, felt encouraged and supported by the think tank team. She recommends the experience to any student, especially those who are still discovering their interests. "Our think tank, fueled by Hannah's leadership, directed me to take the challenge of choreographic research and apply it to areas of passion and interest I held. Each time I approached my work, with scientific or embodied research, I gained a new perspective on what I was trying to share and what I wanted to be heard. " At the conference, she especially enjoyed "attending presentations pertaining to my other interests, watching Dr. Halifu Osumare receive the Harry Shaw Award, and gaining words of wisdom from Dr. Gaynell Sherrod." She relates to Sieradksi, believing that the conference was one of the best decisions she made.