FSU School of Dance Presents: Opposing Forces
The Florida State University School of Dance will present OPPOSING FORCES, the first of three MFA thesis concerts in the current season, on January 21 – 23, 2016. The performances will feature choreography by MFA candidates Jocelyn Perez and Sarah Wilcoxon. Perez and Wilcoxon have both created their work through a similar choreographic process, relying heavily on creating a movement vocabulary through improvisation and collaboration with their dancers. Although their areas of investigation are quite divergent, both choreographers have "developed work that highlights their varied studies on juxtapositions". The result is a concert featuring two contrasting yet equally engaging works.
Perez's choreography, entitled Embers, Quakes, & Echoes, examines ideas of fear and anxiety. The piece delves into an inquiry of how these feelings are expressed physically. Perez says she wanted to "explore how we analyze, classify, unravel, and neutralize our fears." Using elements of their own life experiences, the work, which features Perez and three other dancers, creates an emotionally charged and evocative atmosphere. Embers, Quakes, & Echoes is performed to an original score by composer Joyce Lindsey entitled Shifting.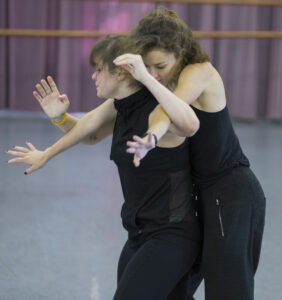 Wilcoxon explores questions about relationships, individuality, and group dynamics in her work Dimensions of Being. After extensive research in the field of jazz dance, Wilcoxon began to investigate the many ways the genre has been used to assert an individual's unique personality in performance. Wilcoxon says, "My dancers and I are showing who we really are, and negotiating how our individual identities fit into a collective." The piece features Wilcoxon and four other dancers to a pre-recorded soundscape, as well as live music performed by, FSU PhD Candidate in Musicology, Matt DelCiampo.
The concert will be presented in the FSU Lab Theatre located at 502 South Copeland Street. This is the first time the School of Dance will present a concert at this site, which is a three quarter thrust stage. Both Perez and Wilcoxon knew from the beginning that a traditional proscenium stage was not the right venue for their work. The intimate setting of the Lab Theatre lends itself well to the concert which pushes the traditional physical boundaries of the audience- performer relationship allowing for a heighted emotional connection.
OPPOSING FORCES will be performed each evening at 8:00, January 21-23, with an additional matinee at 2:00 in the afternoon on Saturday. Tickets for the concert are $8 for the general public and $5 for FSU students with ID.
For ticket information, contact the Fine Arts Tickets Office at 850.644.6500 or online at www.ticket.fsu.edu. For more information call Joyce Fausone at 850.645.2449 or via email at jfausone@fsu.edu, or check online at dance.fsu.edu. The School of Dance is within the College of Fine Arts at Florida State University.