School of Dance Presents "An Evening of Dance"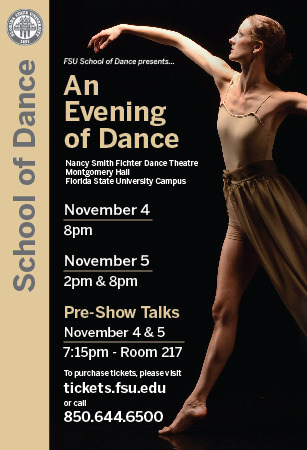 Florida State University's School of Dance presents An Evening of Dance. These performances will highlight the broad scope of choreographic exploration and breadth of performance capabilities of the students and faculty. The diverse program will feature five works spanning a wide range of dance genres from a classical master work to post-modern explorations of current societal concerns.
Joséphine Garibaldi will be presenting a new work titled, Land of the Pick and Choose, which she has created through a deeply collaborative process of text, sound, and movement generation in collaboration with the cast. Garibaldi has been intensely affected by the escalation of unrest in our country, resulting in horrific tragedies such as the massacre in Orlando. As Department Chair, she feels a strong responsibility to open the floor for discussions and to begin a dialogue with students as artists and citizens. Garibaldi is working with a cast of dancers that she describes as "deep thinkers, very collaborative, and respectful of each other". She has directed the dancers through word associations, haikus, sound scores, thoughtful conversation, and movement prompts to generate a work that begins to delve into the many layers of questions, meanings and understanding that these issues bring to the surface. First year MFA student Ebone Amos says, "the process has been very influential in incorporating a multiplicity of views, beliefs, and identities. With this information we have been able to create work collaboratively in a safe space."
Earlier this fall, Suzanne Farrell, the Francis Eppes Professor of Dance, staged an excerpt of celebrated choreographer George Balanchine's work Stars and Stripes on thirteen students. Farrell, a muse of Balanchine, was able to impart in-depth personal knowledge of the work giving cast members the remarkable occasion to learn directly from one of the preeminent ballerinas of the twentieth century. Students were given the opportunity to take class and rehearse alongside company members of The Suzanne Farrell Ballet, which has held an annual residency at FSU since 2005. The dancers will be performing the Second Campaign from the patriotic themed work, which is set to marches by composer John Philip Souza.
Visiting Professor André Zachery has choreographed a new work, Webbed Fugues, to an original composition by Jeremy Toussaint-Baptiste and music from Flying Lotus & Kendrick Lamar. The piece, set on 11 performers, is a continuation of Zachery's research into Afrofuturism and is inspired by writings from Dr. Nadine George-Graves's Diasporic Spidering. George-Graves describes this as, "the multidirectional process by which people of African descent define their lives. The lifelong ontological gathering of information by going out into the world and coming back to the self."
Professor Gwen Welliver will also be presenting a new work which she has dedicated to the renowned postmodern choreographer Trisha Brown. Having served as a dancer and her rehearsal director for many years, Welliver was inspired by Brown's sketching practice and has based this working on her own abstract drawing. Welliver reflects, "I was continuously inspired by the interplay between movement and drawing that was at the base of Trisha's work. The process of making this new dance, Drawing Cycle (for Trisha Brown), is allowing me to reflect on my time working with Trisha." The work, which will be performed by 10 women, is set to a score by Luigi Dallapiccola.
The evening will be rounded out by Interchange, a solo choreographed and performed by Professor Ilana Goldman. Set to György Ligeti's Sonata for Solo Cello and originally choreographed for The Tallahassee Ballet in 2015, the piece will be performed live by School of Music professor Greg Sauer. Goldman spent a lot of time listening to the music, which Sauer introduced her to, before deciding exactly how she wanted to use it. She describes the piece as "a conversation between the dancer and the musician, with the music serving as the driving force."
The Florida State University School of Dance will present An Evening of Dance on November 4 at 8:00 pm, and November 5 at 2:00 and 8:00 pm in the Nancy Smith Fichter Dance Theatre in Montgomery Hall, located on the FSU campus. There will be a Pre-Show Talk on both November 4th and November 5th at 7:15pm in room 217. Tickets for An Evening of Dance performances are $18 for adults, $16 for senior citizens, $12 for children and non-FSU students and $10 for FSU students with ID. All seating is general admission. For ticket information, contact the Fine Arts Tickets Office at 850-644-6500 or online.